Your guide to visiting Disneyland Paris at Christmas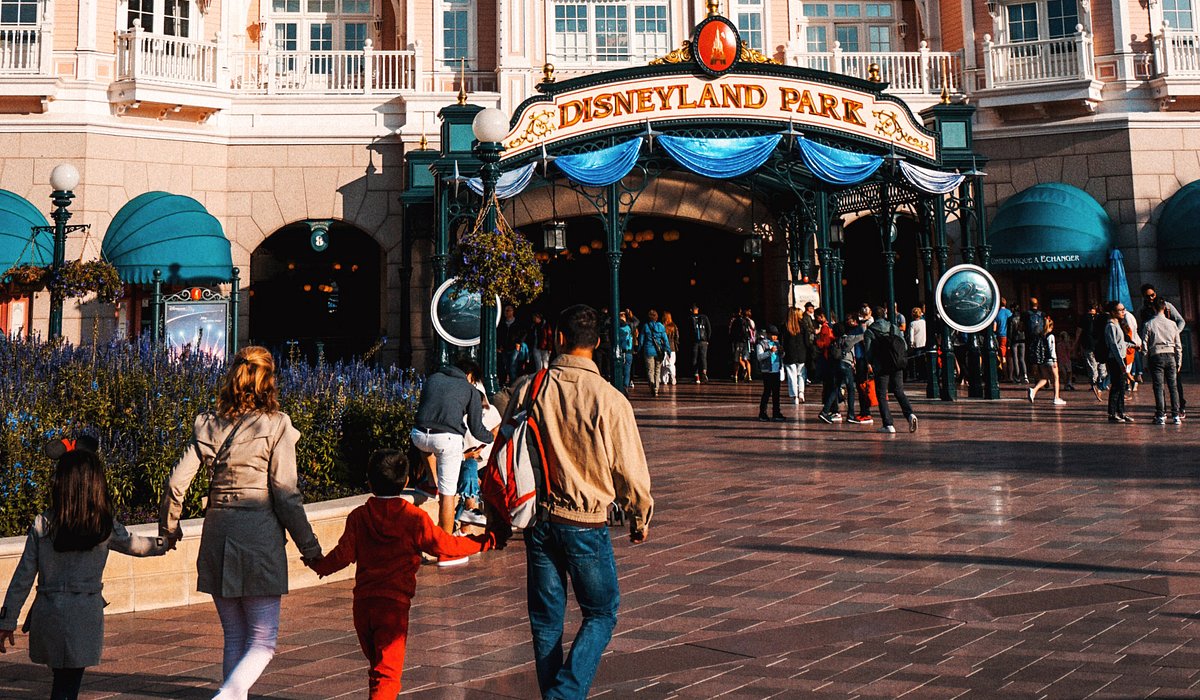 By Dina Malyana

28 Oct 2022 • 5 minutes read
Disneyland Paris is a merry place all year round. But when the holiday season rolls in, it's a different game altogether. Disney pulls out all the stops for Christmas—and the extravaganza starts early, too. From mid-November to early January, you can expect over-the-top Christmas decor, festive foods, and a huge dose of holiday entertainment at Disneyland Paris.
And it's not just Disneyland Park that will boast an extra sparkle during Christmas. The whole of Disneyland Paris—that's including the Walt Disney Studios Park, Disney Village, and the Disney Hotels—will be joining in the celebrations. Trust us, you don't want to miss this.
Pack your winter wear and don't forget the Santa hats. Your favorite Disney characters will be dressed up in their Christmas best, ready for the selfies.
Download the Disneyland app and plan your day in advance to beat the crowds. To help you out, we're sharing some of the Christmassy attractions that await you during Disney's "Enchanted Christmas".
Christmas decorations and displays in Disneyland Paris
During the Christmas season, you don't have to venture far past the entrance to be greeted by Christmas decorations. Come mid-November, Main Street U.S.A. is dressed in lights, garlands, ribbons, and wreaths. Multiple times a day, a flutter of snow will fall over you for that magical white Christmas vibe.
At the Town Square, a giant Christmas tree steals the show. It's draped in so many ornaments, you can't possibly count them all.
But wait till you see the Sleeping Beauty Castle that lies at the end of the street; only a fairy godmother can make it shine that bright. It's clear that Santa's elves had some help in decorating all the magical lands in Disneyland Park.
To fully soak in the festivities, you should start your day as early as possible. The park's opening hours vary throughout the Christmas season, with some days opening at 9 a.m. and closing at 10 p.m. Gather stamina because the real magic appears at night during the Disney Illuminations, which is a show of music, lights and fireworks.
The enchantment spills over to Disneyland Park's neighboring attractions—Walt Studios Disney Park, which highlights all things television and cinema, and Disney Village, the heart of shopping and dining outside the park gates. Both locations feature festival-style winter markets with regional and seasonal delicacies. You'll surely spy classic treats like spiced wine and roasted chestnuts, along with goodies such as gingerbread, pretzels and crepes.
Christmas parades and events in Disneyland Paris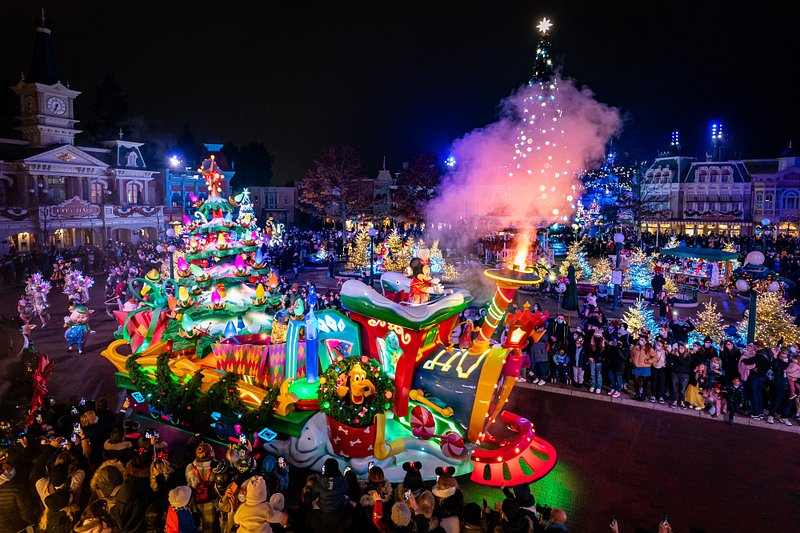 Christmas parades
The Christmas Parade is the cherry on the yule log cake. It's one of those special things you simply must slot into your Disneyland Paris itinerary. Titled Mickey's Dazzling Christmas Parade, this spectacle takes place along Main Street U.S.A. Mickey Mouse—accompanied by his friends Tinker Bell, Donald Duck, Santa Claus, and many Disney Princesses—will cruise down the street on Christmas-themed floats. Catch both the day and evening parades—the night parade is accompanied by dazzling lights and illuminated floats!
Meet 'n' Greet your favorite Disney characters
Can't get enough of Mickey? Snap a selfie with him while he's still decked out in his Christmas outfit, along with his besties like Minnie Mouse, Chip and Dale, Goofy and Olaf. Try to catch Santa when he makes an appearance, too.
Christmas holiday shows
If you know your Christmas carols by heart, pop into the Videopolis Theatre for Let's Sing Christmas!, a spectacular singalong session with Donald, Daisy, Goofy, Mickey and Minnie.
Disneyland Paris on Christmas Day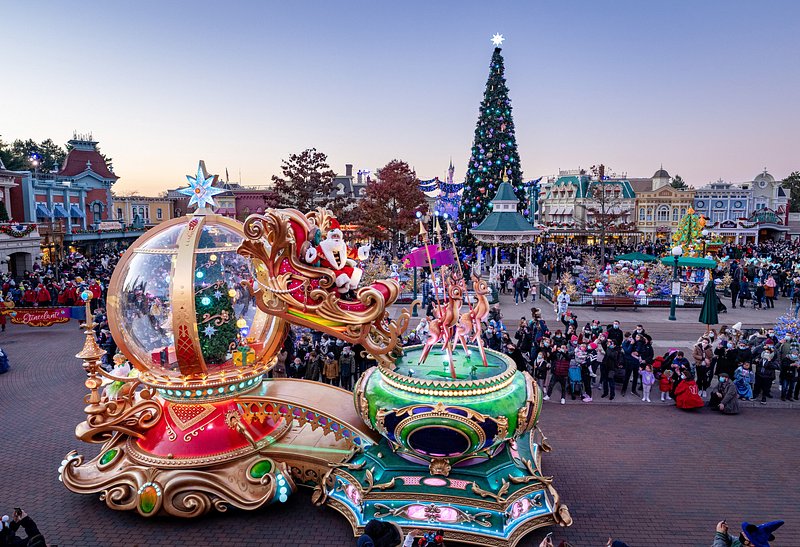 Disneyland is very much open on Christmas Day. In fact, if you're in Disneyland Paris on Christmas Day, count yourself lucky as you don't have to jostle with the usual crowds. While a Christmas holiday in Disneyland Paris is highly coveted, most locals visit on the days leading up to Christmas.
Compared to a normal day, you get two to three precious extra hours for nighttime explorations—and what a joy it will be. The attractions, shows, and parades will be in full swing with a strong spirit of Christmas in the air.
Christmas food at Disneyland Paris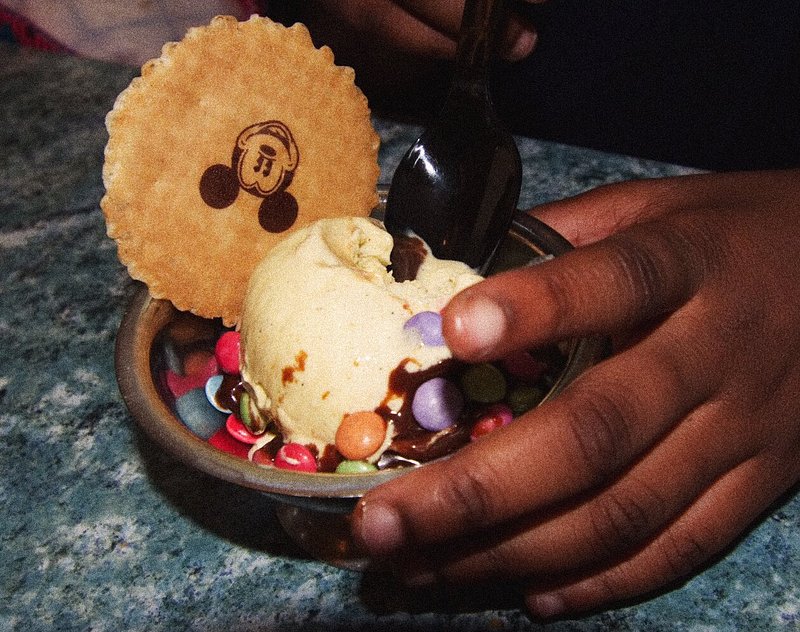 Chuck the diet. Every day in Disneyland Paris will be a cheat day because it's nearly impossible to resist the seasonal delights. Christmas treats call out from every food cart and windowfront: shortbread cookies on a stick, doughnuts that resemble Christmas ornaments, cakes shaped like Christmas trees… the list goes on.
On top of that, most if not all of the restaurants in Disneyland Paris will add Christmas specials to their menu. From Café Hyperion for fast-food galore to The Lucky Nugget Saloon which serves up Tex-Mex food, you'll enjoy festive dining at its best.
Christmas Eve and Christmas Day menus
What about on Christmas Eve and Christmas Day, though? The chefs in Disneyland Paris usually prepare a Christmas menu with a Disney twist. Typically available as a Christmas Eve dinner and a Christmas Day brunch, with vegan options on offer, too. The only catch is that you need to book your table in advance.
Disneyland Paris Christmas merchandise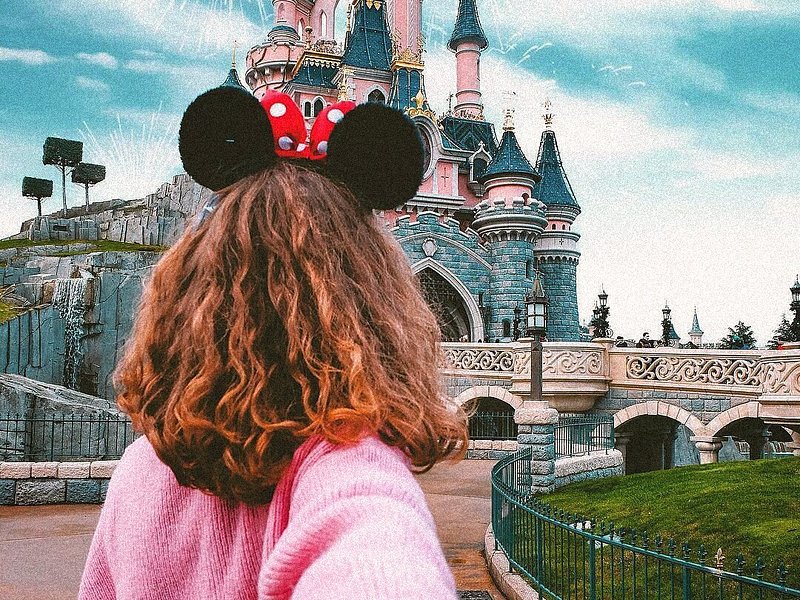 La Boutique du Château is the place in Disneyland Paris to stock up on all things Christmas. This medieval-style boutique sells Christmassy gifts and ornaments year-round. Baubles, pendants, cards, snow globes, puzzles, soft toys—you name it, they have it.
For even more Christmas and Disney merchandise, drop by Emporium and Flora's Unique Boutique along Main Street U.S.A., or the Walt Disney Studios Store at the entrance of the Walt Disney Studios Park. Can't decide what to get? An advent calendar is always full of surprises.
Disneyland Paris Christmas packages
Get the most bang for your buck with Disneyland Paris packages. The Disneyland Paris 1-day ticket gives you the option of spending the whole day at Disneyland Park or you can also enjoy two parks (including the Walt Disney Studios) in one day.
Special Christmas packages which give you access to the two Disney Parks and accommodation at a Disney Hotel are also available on the official Disneyland Paris website.
Where to stay at Disneyland Paris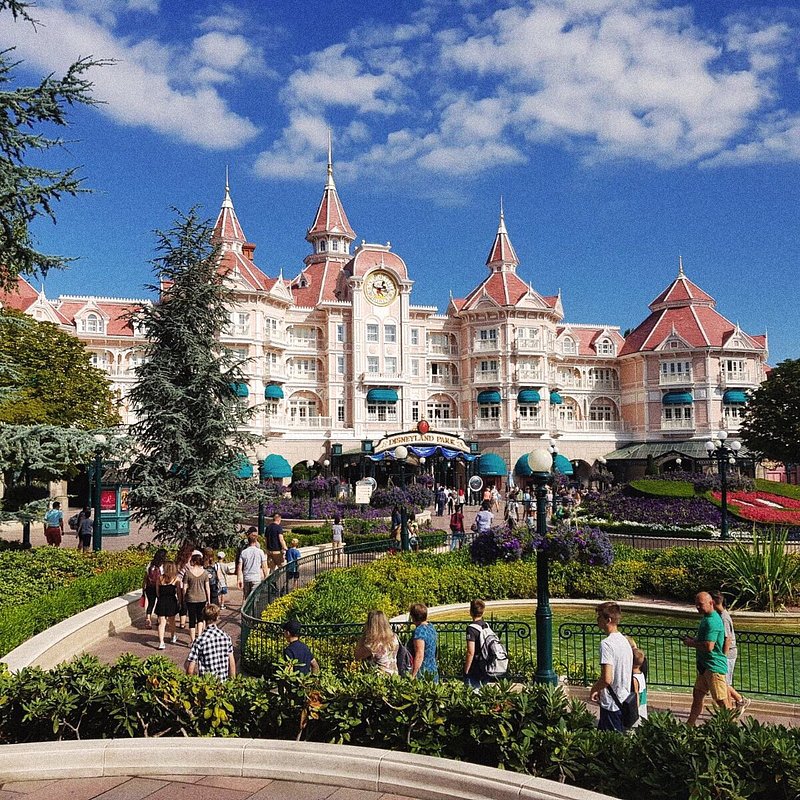 There are seven Disney Hotels in Disneyland Paris to complete your trip—and each of them will be glammed up for Christmas.
The crème de la crème is Disneyland Hotel, the only five-star kingdom of the lot. A short walk away, in front of Lake Disney, lies Disney's Hotel New York – The Art of Marvel, which is a paradise for Manhattan and Marvel lovers. For Christmas, this hotel offers rooms decorated in the festive theme complete with surprise gift packages for the young and old.