---
Condo/Apartment
Beautiful newly refurbished apartment to let in central Nice. On the third floor of an Art Deco building (with lift), the apartment is fully air-conditioned with two double bedrooms (to sleep 4), fully fitted kitchen, large living area, two small balconies and modern bathroom. Finished to a very high standard, facilities include TV, DVD player, Bluetooth speaker, Wifi, dishwasher, washing machine and microwave. Ideally situated for Nice Old Town, the Port and the beach and a few minutes walk to the many restaurants, cafes and bars on Place Garibaldi. An ideal base to explore both Nice and the Cote D'Azur. Our apartment is situated in Quartier Garibaldi in central Nice, a vibrant and up and coming area of the City. For local Nicois it has become the 'Marais de Nice' and is the place to...
House Rules
Pets not allowed
Not suitable for children
No smoking
As the apartment is situated in a residential block, please be considerate of neighbours.
---
Simon R
Hosting since February 2018
Languages spoken: English
Response Rate: 92%
Response Time: Within a few hours
---

Liz
Cambridge, United Kingdom
1

contribution
Fabulous flat, highly recommended
We loved Appartemenet Anise. It's tatstefully deocrated, very comfortable and well equipped. Unlike some rentals, the beds are excellent, the sofa and chairs are good quality and having a washing machine and dishwasher make everything easy. Best of all, the aircon is a godsend in hot weather and remarably quiet as others have noted KOcation is very good and overall it's great value.

Many thanks. Really glad you enjoyed your stay at our apartment!
---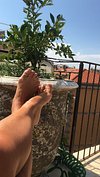 ButtonBr7
Worcestershire, United Kingdom
7

contributions
fabulous apartment where you feel like a local! 10 mins from Place Garibaldi which is a less touristy square - Simon is a pleasure to deal with.

Many thanks. So glad you enjoyed your stay in Nice! Regards Simon
---

PNWH
London, United Kingdom
3

contributions
Just north of the old town, close to the port, 5 minutes walk from a large supermarket and two minutes walk from the tram. Pretty much a perfect location. The apartment itself is also pretty much perfect. It's clean, modern, well equipped and everything works. It's ideal for a couple or a couple with children, it has two bedrooms, but four adults would probably get on top of one another. Is it value for money? Absolutely. Would I stay there again? Absolutely. What would I change if I could wave a magic wand? Nothing.

Many thanks. So glad you enjoyed your stay in our apartment! Hope you will return again.
---

Really lovely apartment in a great location
A great place to stay to get to know Nice; convenient for exploring the old and new towns, the Promenade des Anglais and the port. Also convenient for Nice Riquier station for trips along the coast to the west. The apartment is beautiful with comfortable beds and (silent) air conditioning. Having a proper kitchen meant we could take full advantage of the the produce in the market but there are also great cafes, bars and restaurants nearby. Hope to go back again soon.

So glad you enjoyed your stay in Nice.
---

lindygascoigne
Oxford, United Kingdom
1

contribution
A very well appointed and comfortable appartment.
Apartment Anise is very well situated within the city offering easy access to the city centre, the old town and two railway stations. The surrounding streets offer a good selection of shops, cafes and restaurants, with Place Garibaldi being only a few minutes stroll from the front door. The welcoming ambience, created by the stylish interior and attention to detail provided by the owners, ensures a comfortable stay. The flat is kept cool by the quietest air conditioning I have ever had the pleasure to activate! This apartment is the perfect place from which to explore all the area has to offer, and is a pleasure to return to at the end of the day.

Many thanks for your review. Please cone visit again!
---

Beautiful apartment. Well equipped. Great location. Very comfortable beds and near all the local facilities, A great place for your stay in Nice

So glad you enjoyed it all.
---

Pat F
London, United Kingdom
5

contributions
Lovely flat and great location!
Lovely flat with everything you could possibly need and great location. We had the most wonderful stay, would highly recommend this accommodation and will definitely be booking it again.

---

Great location, great apartment
Wasn't sure what to expect from Nice but couldn't have had a better time. Thanks in most part to where we were staying! The location was fantastic for local shops, eateries and modern art gallery but also a short walk from main square and local trail station with trains up and down the Côte d'Azur. And after a 'hard' days touristing what better to come home to than a comfortable, lovely decorated apartment with all the practical things you need on a holiday- fridge, corkscrew and rain shower! Will definitely go back.

Many thanks! So glad you enjoyed your holiday. We hope to welcome you back soon!
---

stewW4
London, United Kingdom
161

contributions
Beautiful appartment in a great location.
The Anise appartment is just north of the Old Town and very close to Place Garibaldi and trendy rue Bonaparte. We loved the appartment. It is beautifully furnished with some lovely touches. I wouldn't hesitate to return. Very comfortable and really good value.

Many thanks. So glad you enjoyed your stay in our apartment.
---
---
DVD player

Air conditioning

Balcony

Central heating

Elevator/Lift access

Housekeeping included

Internet access

Linens provided

Cable television

Stereo system

Terrace

Towels provided

Television

Wi-fi
---
---
---
100% refund within 24 hours after booking (provided the stay is at least 60 days away).
50% refund* if you cancel at least 4 weeks before check-in
25% refund* if you cancel at least 2 weeks before check-in
No refund available if you cancel thereafter
*Booking fee is excluded from refund amount
---
---
First, check the Availability tab on this page to see if your dates are available. If they are, contact the owner via the Tripadvisor Rental Inbox to confirm availability.

---

Initially, you may contact the owner via the Tripadvisor Rental Inbox. This inbox is created after you send your first message or booking request to the owner. After you've made your first payment, you'll be able to see the owner's contact information.

---

This owner will contact you via the Tripadvisor Rental Inbox.

---

You can send another message via the Tripadvisor Rental Inbox to ask if the property is still available.

---

For this property, please use a credit card to pay via the Tripadvisor Rental Inbox. Once the owner approves your stay, he or she will send you a quote, which will include payment instructions.

---

Yes. Payments made via the Tripadvisor inbox are covered by our Peace of Mind Protection.

---
---
Still can't find what you're looking for?
More Romance destinations:
More Coastal destinations:
---
Do you own a holiday rental? List it here.
Earn extra income
Earn money by renting out your home. With no up-front fees and no contract, you keep more for yourself.
Manage booking easily
Confirm bookings in one click and track everything from enquiry to checkout, even while you're on the go.
Be trusted by travellers
With millions of reviews and protected online payments, Tripadvisor helps travellers book your home with confidence.
---
This property is affiliated with
All bookings are direct with the owner
---
Frequently Asked Questions about Appartement Anise, Nice
---
---

---

---

---