---
Overview
Condo/Apartment
House Rules
Pets not allowed
Not suitable for children
No smoking
---
Xavier D
Hosting since June 2014
Languages spoken: English, French
Response Rate: 83%
Response Time: Within a few hours
Interaction with guests: I would give you some information about your stay in Nice and area upon arrival and I am on reachable during your stay to answer your questions.
---

Well equipped studio in excellent location. Great communication with the owner who was most informative. Really enjoyed our week in Nice and the lovely studio made it all the more enjoyable.
---

Das Studio ist optimal gelegen. Wenige Gehminuten zum Hafen, zur Altstadt und zum Platz Garibaldi.Der Besitzer reagierte umgehend auf Fragen oder auf Rückmeldungen (es wurden 2,3 Mängel reinigungs- und unterhaltstechnischer Art gemeldet. Der Vermieter hat versichert, diese rasch zu beheben). Die Einrichrung des Studios ist hübsch und zweckmässig. Alles in allem war es ein angenehmer Aufenthalt.
---

Very clean,well eqipped and excellent location.
The apartment is situated on the edge of the old town and just across the square from the Modern Art Gallery. The bus from the airport dropped us on the same Garibaldi Square outside a Monoprix Store. The apartment itself is compact but well equipped with an excellent bathroom. We thoroughly enjoyed our stay exploring Nice and Antibes. We especially enjoyed a morning walk through the old town and then up the hill to the citadel. If you do catch the bus along the coast to Antibes or Cannes remember the return journey takes twice as long as the traffic builds up.
---

Very nice, clean and quiet apartment. Small but just good for 2 person. Location was perfect and Xavier was a Very good host. I can recommed this apartment!
---

Mary S
Glasgow, United Kingdom
3

contributions
Xavier's studio apartment is perfect. Very well equipped. Comfortable sofabed. Light and bright room.in a very convenient location. Close to the heart of activity but in a quiet courtyard. Nice to have the outdoor space for breakfast in the sun. Only niggle - probably needs a different shower head.

Merci pour votre commentaire. Quel est le problème avec la douche afin que je puisse réparer ? Cordialement, Xavier.
---

123Aries
Helsinki, Finland
3

contributions
All you need in a small nicely furnished studio in a great location. The outside terrace was a great bonus.

Merci beaucoup je suis ravi que mon studio vous ai plu et vais vais essayer encore d'améliorer quelques détails. Je serais ravi de vous accueillir à nouveau à Nice, Cordialement, Xavier.
---
Had a very lovely stay in this studio. Very clean, quite and secure place, you have everything you need for a good price. Xavier is very helpful too. Will definitely recommend it to my friends
---

Sumlou
Hayle, United Kingdom
4

contributions
This is a good rental if you want to be close to old town nice It was very clean and modern with good security and also very quiet The outside terrace is a bonus, the owner was quick to respond to questions and very helpful Would recommend this appartment
---

Bettina22085
Hamburg, Germany
4

contributions
Dieses Apartment ist in jeder Hinsicht großartig und wir werden bestimmt wiederkommen! Die Lage ist perfekt und das Apartment modern und sehr sauber, durch den Innenhof ist es sehr ruhig gelegen und man hört nichts vom Trubel der Stadt. Die Terrasse ist wunderbar und durch sie ist es überhaupt nicht problematisch, dass die Wohnung sehr klein ist. In unmittelbarer Nähe liegen Supermärkte, Restaurants und Bushaltestellen und in wenigen Minuten ist man am Hafen oder direkt in der Altstadt, besser geht es wirklich nicht! Der Kontakt mit Xavier war sehr nett und er hat schnell auf Fragen geantwortet, wir haben uns sehr wohl gefühlt und die Zeit dort genossen!!!
Visited August 2016 Travelled as a couple
---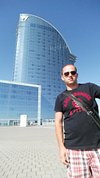 Stefan T
Turin, Italy
2

contributions
Casa molto bella e tranquilla
Siamo stati 9 giorni-8 notti in questo picollo ma molto bello e tranquillo monolocale,situato in una buona posizione,molto comoda,con piccolo terazzo fuori per mangiar o per fare colazione. Il proprietario e stato molto gentile,anche nel giorno quando siamo andati via e stato d'accordo di lasciare la casa alle 15,cosi abbiamo aprofitato e fato il bagno e abbronzati anche quella domenica. Grazie Xavier,a bientot!
---
Showing results 1-10 of 17
---
Air conditioning

Balcony

Refrigerator

Internet access

Iron

Kettle

Linens provided

Microwave

Cable television

Terrace

Towels provided

Television

Washer

Wi-fi
---
---
---
100% refund within 24 hours after booking (provided the stay is at least 60 days away).
50% refund* if you cancel at least 4 weeks before check-in
No refund available if you cancel thereafter
*Booking fee is excluded from refund amount
---
---
First, check the Availability tab on this page to see if your dates are available. If they are, contact the owner via the Tripadvisor Rental Inbox to confirm availability.

---

Initially, you may contact the owner via the Tripadvisor Rental Inbox. This inbox is created after you send your first message or booking request to the owner. After you've made your first payment, you'll be able to see the owner's contact information.

---

This owner will contact you via the Tripadvisor Rental Inbox.

---

You can send another message via the Tripadvisor Rental Inbox to ask if the property is still available.

---

For this property, please use a credit card to pay via the Tripadvisor Rental Inbox. Once the owner approves your stay, he or she will send you a quote, which will include payment instructions.

---

Yes. Payments made via the Tripadvisor inbox are covered by our Peace of Mind Protection.

---
---
Still can't find what you're looking for?
More Romance destinations:
More Coastal destinations:
---
Do you own a holiday rental? List it here.
Earn extra income
Earn money by renting out your home. With no up-front fees and no contract, you keep more for yourself.
Manage booking easily
Confirm bookings in one click and track everything from enquiry to checkout, even while you're on the go.
Be trusted by travellers
With millions of reviews and protected online payments, Tripadvisor helps travellers book your home with confidence.
---
This property is affiliated with
All bookings are direct with the owner
---
Frequently Asked Questions about Studio entièrement rénové (clim) situation idéale
---
---

---

---